Summer/Autumn 2002

PUBLIC HOLIDAY
MONDAY 16 SEPTEMBER 2002
EMERGENCY SERVICE ONLY
8.30am to 11.30am
Patient Services Information
Minor Injuries Unit

Specialist Nurses who have all worked in Accident & Emergency Departments and are trained to degree level to manage a wide range of minor injuries staff the Unit at the Western General Hospital. The Unit is open 7 days from 9am to 9pm, no appointment is necessary. The nurses provide treatment for patients aged over 1 year for injuries such as cuts, sprains, burns and simple fractures. X-rays can be performed for patients aged 12 years and over and physiotherapy referrals made if necessary post treatment. The nurses follow clinical protocols in order to provide medications such as simple painkillers, antibiotics and tetanus vaccinations for patients over 12 years. Contact telephone number 537 1330
Dr J Barry Parker – Sabbatical
Dr Parker has been granted extended study leave by the Health Board to undertake further study towards an MSc in Primary Care. He will therefore be away from the practice from 1st September 2002 returning in the New Year. We are pleased to welcome Dr Douglas Thyne to the practice as locum replacement during this time.
Clinical Care
Hormone Replacement Therapy (WHI Study)
The results of a study examining benefits and risks of hormone replacement therapy (HRT) used by women age 50-79 have recently been published in America. The women who took part in the study had completed the menopause and were well at the outset. The average age was 63. After 5 years it was found that HRT use was associated with the following:
Increased risk of breast cancer from 30 to 38 cases per 10,000 women
Increased risk of coronary heart disease from 30-37 cases per 10,000 women
Increased risk of stroke from 21 to 29 cases per 10,000 women
There was a decrease in risk of colon and rectal cancer from 16 to 10 cases per 10,000 women and a decreased risk of hip fracture from 15-10 cases per 10,000 women. The type of HRT used in the study was for continuous use without regular bleeds. The actual preparation is not available in the UK, but similar preparations are used here.
The Committee on Safety of Medicines
Has noted that the absolute risks from HRT use were small in the study and that the overall rates of deaths and all cancers were NOT significantly increased. Our own Area Drug and Therapeutics Committee has also reviewed the findings and advised that the balance of risks and benefits of HRT for its license indications remains favourable. The results emphasise that there is no proof that HRT is beneficial in prevention of heart disease, and in fact may result in a slight increase in rate of coronary heart disease or stroke. If you would like to discuss HRT use with your doctor then please do not hesitate to contact us.
&nbsp&nbsp&nbsp
Staff Roles:
General Practitioner
A Day in the Life of a part-time GP by Dr Janet Sayers

My day starts at 6am when our 10-month old daughter Catherine wakes us with a sing-song dialogue or a crescendo of sobs. At 7.20am we walk to the childminder and I get to work at 8am. The practice takes over from the out-of-hours emergency service at 8am. I deal with paperwork and e-mails before surgery starts at 8.30am. I see 13 patients booked at 10-minute intervals in the morning and surgeries are always varied and interesting. I see people who are very sick, who are experiencing life crises, who have worrying symptoms. Some problems demand more than the allotted time and surgeries can overrun.
I catch-up with colleagues during a quick coffee break at 11am and then do paperwork such as hospital referral letters. Then I begin house-calls, which vary in number and distance. Usually they are to housebound elderly people or those too sick to come to the surgery e.g. because of shortness of breath, abdominal pain and vomiting or those with chronic debilitating illnesses. Lunch is a sandwich eaten while doing more paperwork or at a lunchtime practice meeting. I pick Catherine up again at 2.30pm but I often have to complete work such as audits at home. On a full day I finish at 6pm and once we have eaten, put Catherine down and tidied up its time for bed.
Patient Services Information
Travelling with Insulin Treated Diabetes
The Diabetic Specialist Nurse at the Western General Hospital, Jacqui Charlton now provides an advice service for diabetic patients on insulin who are travelling abroad. This service is aimed especially for those who are backpacking or travelling independently. Patients are advised to contact Jacqui on 537 2542 at least 1-2 months before their travel date. There is also a web site suitable for insulin treated diabetes which gives travel health advice.
www.diabetes-travel.co.uk
NB: The Practice Nurses continue to provide a comprehensive travel health service for all patients travelling abroad. Please contact reception to arrange an appointment.
Congratulations!
The practice attained the Quality Practice Award in October 2001. At a luncheon last month the practice was officially presented with the Award by Health Minister, Malcolm Chisholm. The staff were joined at the luncheon by two of the practice patients who took part in the assessment visit for the Award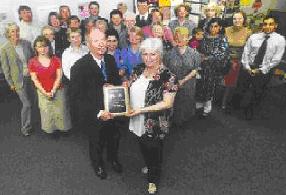 Patient Services Information
Repeat prescriptions:- order your medication day or night:- www.greenpractice-shc.co.uk