Welcome
This is the first edition of our Practice Newsletter. This will be produced quarterly with a seasonal theme to keep you up-to-date with practice news and issues we feel are important to our patients.

If you have anything you would like to contribute to the newsletters or suggestions for improvement, please post them in the Comments Box located in the waiting room area.
FLU VACCINE FOR ALL OVER 65 YEARS
Influenza Vaccine For the first time this vaccine will be offered to all those over the age of 65 years (as well as those of all ages with chronic lung, heart or kidney disease and diabetes). The vaccine is very effective and appointments for our fluí clinic can be made by the reception staff from the beginning of October. Saturday morning clinics available by appointment Housebound patients and those being visited by the district nurse team can be vaccinated at home.
Patient Services Information
Repeat Prescriptions for patients on regular medication the doctor may arrange repeat prescriptions. You will be given a re-order slip with details of your medicines. This will also give details of a telephone ordering service available Monday-Friday between 10.30-11.30am and 2.00-3.00pm. Items not listed must be requested in writing.If the telephone times are not convenient for you alternatives are; hand in at reception desk; by post ; post through health centre letter box if building closed or leave re-order slip with local chemist to deliver to the health centre. If you cannot collect your prescriptions arrangements can be made with one of the four local pharmacies or you can send in a stamped addressed envelope. Prescriptions will normally be ready within 24 hours (48hrs at the weekend). Same day requests can be done if the patient has run out of medication. Progress on medication including any problems or side-effects experienced will be regularly checked by your doctor.
PUBLIC HOLIDAY
Monday 18 September 2000

Surgery open for emergencies only:

8.30am to 11.30pm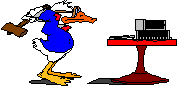 The Editor!! After finishing first edition.
&nbsp&nbsp&nbsp
Vaccine Information
Meningitis C Vaccine this is now available for all pre-school aged children. For further information please ask for a leaflet; alternatively you may discuss this with your health visitor; or you can arrange an appointment with the practice nurse.

Starting University or College? Meningitis C vaccine - this is now available for all first year students. For further information please ask for a leaflet; alternatively you can arrange an appointment with the practice nurse.
Patient Services Information
In an Emergency When the surgery is closed and you need urgent medical advice; telephone the surgery number Ė 225 9191. You will be given the North Edinburgh Emergency Doctor Service (NEEDS). We have joined NEEDS to provide an extended and improved service to patients outside surgery hours. You will be able to speak to the duty doctor who will advise you or invite you to attend the NEEDS centre. If medically necessary patients will be seen at home. Callers should be aware that telephone calls to NEEDS may be monitored and recorded for audit and legal reasons. Patient confidentiality is maintained.
Drug Alert
There have recently been some concerns raised in the media about St Johnís Wort. This herbal remedy for depression can be bought over the counter at chemists. The level of active ingredient varies significantly from one preparation to another. Side-effects with St Johnís Wort can occur such as: stomach upset, sensitivity to sunlight, dry mouth, dizziness or confusion. St Johnís Wort also interacts with several prescribed medications which include: anti-depressants, warfarin. digoxin, oral contraceptives, theophylline, anti-HIV drugs and certain migraine remedies and therefore should not be taken in combination with any of these. For further information contact Medicines Control Agency at http://www.mca.gov.uk/.
Staff Roles
The Practice Nurse
The role of the Practice Nurse has been continuously expanding. The aim is not to take away work from the GP but to give them more opportunity to see patients with serious medical problems. Practice Nurses undertake specialist skills training such as asthma management, family planning and travel health. The three Practice Nurses in the Green Practice offer chronic disease management, health screening and immunisations. A full list of services provided is available from reception. The Practice Nurses are also available for telephone advice at allocated times throughout the day. If they are unable to help, they will put you in touch with someone who can.